Nervous. Skin-crawling, palm-sweating, heart-pounding anxiety. That is how I felt when I brought my registration form, sealed in its envelope, to the post office in February of 2010 to sign up for the Spring Session of Squam Art Workshops – my first retreat ever. That is how I felt every time I revisited the website and the confirmation letter – checking and double-checking my classes, my roommate, the location of my cottage. That is how I felt when, all by myself, I hopped in the car of a stranger (a welcoming and very calming Squam veteran) to drive up to New Hampshire that first day. My heart was in my throat when I reached the door. And then. This woman. She looked into my eyes, and she hugged me, like we had been long lost friends. I thought…"hmmm she must think I am someone else". But no. It was just Jen being Jen. Squam being Squam. Like a lighting bolt of positively charged energy. Openness, kindness, genuine curiosity, pure honesty. I was delivered so much of those things in that one look, in that one hug, that old hanger-oner of a friend called anxiety all but disappeared. Not only that, but I was oozing those same feelings to everyone I met over the next 5 days. And then I met the creator, originator, goddess of Squam, Elizabeth. She was so present, and so welcoming, and humble, and spot-on in her knowing what a little someone like me might need. And then I met another first timer, and someone else, and someone else and all of a sudden I was just exactly where I was supposed to be.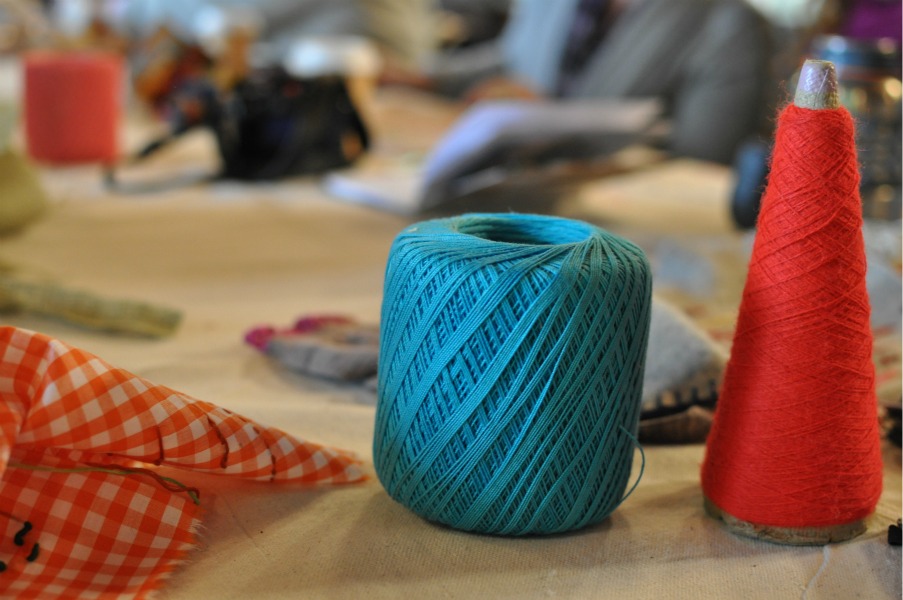 That first Squam came to be all about bravery for me. For many, it seems. Bravery as I let "the real me" emerge without hesitation – as I began my first attempt at hand-embroidery – as I opened up with my classmates about what their creations meant to me.  It was there as I met the 9 women in my cabin and we began to share meals, and stories, bits of ourselves and our dreams, until we were just like sisters. Most poignantly I wound up my courage as I divulged my long-standing relationship with anxiety in Jen Lee's storytelling class. A story about how I had let fear stop me from camping in the woods with friends, and I was determined not to let it stop me again.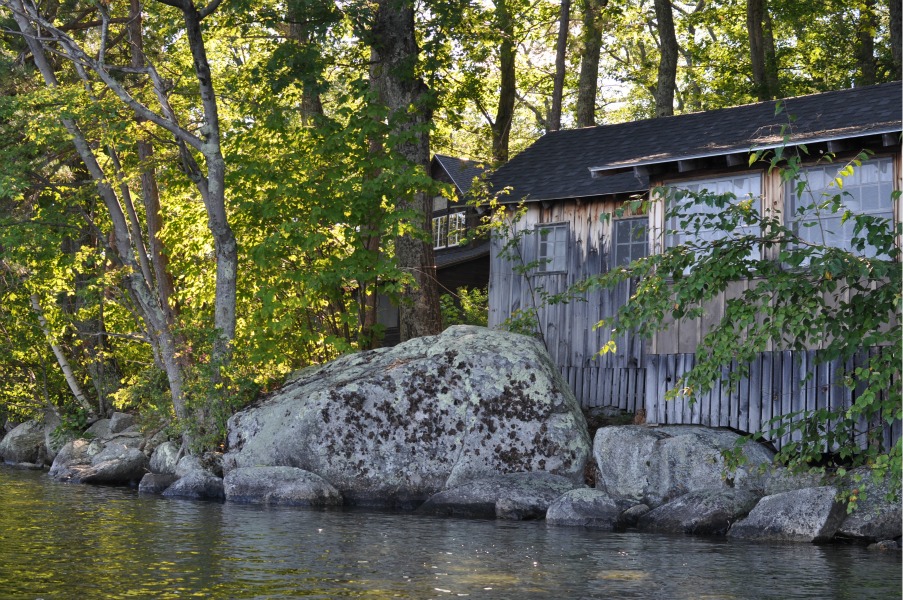 Last Spring I couldn't attend because it was too close to the due date of my first child. But my husband and my 4 week old and I managed to get ourselves up to Squam for the Art Fair. The three of us visited with many of those same Sassy Sisters I had met the year prior, and a few new friends to boot. Just like family, we picked right back up where we left off. Max slept better than he had in his entire 4 weeks of life as he was passed from sister to sister. And in the end, those amazing women presented us with a quilt. Each of them handmade a square and one of them assembled and finished it off. Each square was made with care and love. One square depicted a sketch of Squam Lake, one an image from the story I told in Jen Lee's class. In the center, my name along with my partner's surrounds a tree with a nested egg. And, a late addition I'm told, a panel with a scene from Where the Wild Things Are depicting my son's namesake as he bravely stomps into the woods.
I am thinking about all of this as I begin to pack myself up for this year's Spring session that starts in just one week – as I start this blog and this journey that would have always remained an idea if not for Squam. Just beginning the preparations fills me with excitement, and anticipation – and courage. Just the beginning.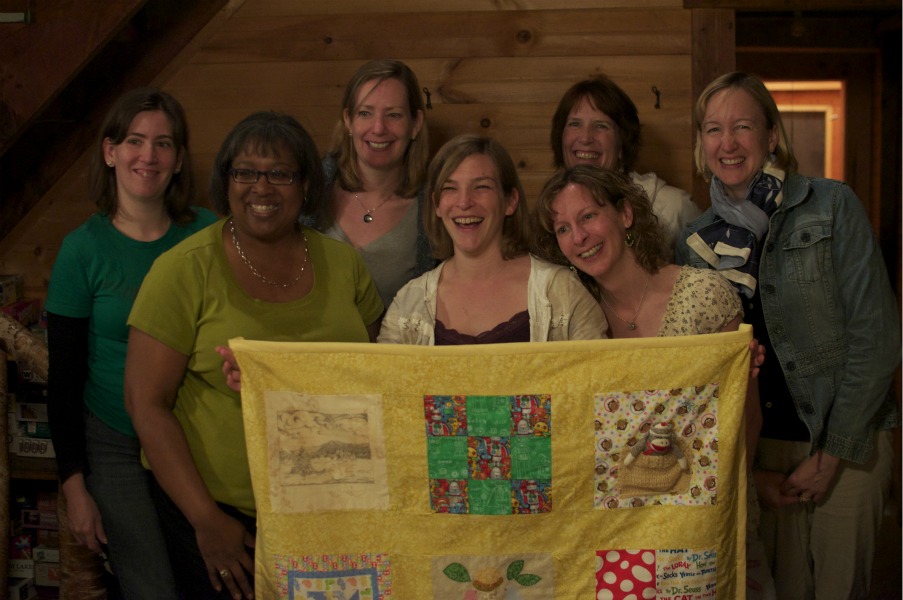 ')}
Just yesterday morning, there was an article in usa today discussing how many of today's students don't feel particularly challenged by their
check the website
school work
.